The Center for Technology, Essex has long been a community fixture. Our plant sales, cosmetology specials, and weekly dining options have been enjoyed by many. Connecting to the community is at the core of the school's mission. Community connections make for great experiences for the students.
We are especially proud of our annual Community Appreciation Days held for Senior Citizens. This first event of the year is a chance for students to show their skills by providing vehicle maintenance, photo restoration, blood pressure testing, games and a great lunch.
In addition to the fabulous CTE Bakery and Cafe, we are proud to offer automotive and cosmetology services to the community.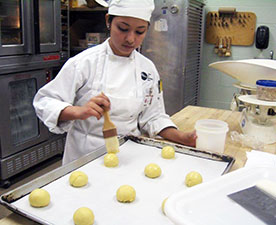 CTE Cafe and Bakery
Students in the Professional Foods program run the CTE Cafe and Bakery.
CTE Cosmetology Studio
Hours of operation;
Tuesday and Thursday 10-2
Wednesday 10:45-2
Friday 12:15-2 (cuts, manicures and pedicures only)